2nd Monday of each month 6:30-8:30PM (next Event is September)
Three Monkeys Pub and Chophouse
9329 Main Street in Manassas, VA 20110
All adults (ages 21-39) single and married of all faith backgrounds are invited to a social night with a guest speaker. Food and drinks are served starting at 6:30pm and the talk begins at 7:30
Dates vary. Check our Facebook events or sign up for Flocknote updates to get the date for the upcoming hike.

8:00AM – Mass
8:30AM – Coffee & Breakfast
8:45AM – Carpool to Hike
2PM – Meet back at All Saints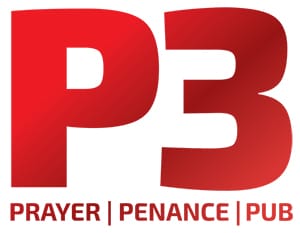 3rd Friday of the Month (except during Lent) 7-8PM
All Saints Church
9300 Stonewall Rd
Manassas, VA 20110
Adoration, confessions, and a talk, followed by dinner in old town Manassas

2nd Saturday of each month 9-11AM (begins in September)
Locations vary – check Facebook events or sign up for Flocknotes
Looking to work on a team, meet young adults, and put your faith into action? Come volunteer with us! Biweekly service events are with local Catholic charities such as St. Lucy Project or House of Mercy.